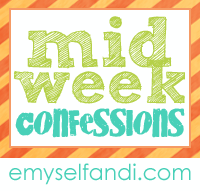 Wow - if feels like I just did this...it has already been a week?!?!?!
Maybe this time I will get it right - here we go....
~ I ordered a personalized license plate. I still can't believe I did it. I always thought people who did that were kind of corny. Well, add me to the list.
~ On our road trip to Pittsburgh this weekend, I sat in the back with Avery and Malcolm (our oldest pug) rode shotgun. Again, I always thought it was lame when moms rode in the backseat with the babies (like you always see on the baby shows on TLC). But I figured it was either at the beginning or halfway there, pulled over on the turnpike.
~ I have switched from listening to obnoxious radio shows in the morning on my commute to interesting, educating, and thought provoking sermons via podcasts on my iPhone. Jon Courson has an excellent lecture called "Its Not About You!". And Chris Swanson from Calvary Chapel Chester Springs is quite an amazing preacher. I started with Genesis and it seems he has a podcast for the books of the Bible. If it is of interest to you, check them out. It really helps me keep my attitude in check and start my work day on a better note when I have God's word to reflect on and remind me of His glory I am responsible to show to others. Even when I get frustrated and depressed about not being able to stay at home with baby.
~ I am waaaaaaaaaaaaaay behind on Avery's monthly pictures and updates. It makes me feel a little overwhelmed. She is 9 months old today and I haven't even started her blog post! Shame on me!
~ I have already started fretting over her 1st birthday party. Thank God for Pinterest!
~ I have considered camping out at our local grocery store to find out who it is that is buying ALL the Fiber One brownies that are on sale 2 for $5!!! Come on, leave at least 1 box for the rest of us! I am "stuck" with the peanut butter ones. Off to Target tonight to suck it up and pay $2.79 for a box (or 3) But, a brownie for 2 points - yes, please!
~ I am shamelessly addicted to stats. I can't help it - why does it matter so much? And does it really? Am I getting self assurance from how many people view my blog? I don't know. Maybe that needs to be another blog post all in itself.
So, after checking out a few Midweek Confessions from other bloggers, I believe I may have done it right this week.Thanks for reading!
Happy Wednesday!
xoxo