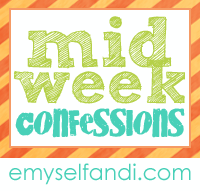 Once again, I am linking up with E over at
E, Myself, and I
to do some needed confessing. Every time I do these I am amazed at how fast the week has gone because it always feels like I just did them.
- I think I enjoy Disney movies way more than the average 31 year old. And I am talking the old school Disney The Gnome Mobile, Parent Trap, Polyanna, Lady and the Tramp, Pete's Dragon...I could go on and on. I cannot wait until Avery is old enough to watch them with me.
- In my effort to "wean" myself off of my asthma medication, I have had 2+ weeks of horrible sleeping and even more horrible breathing. Straight up, asthma sucks. I have had asthma since I was young and as I have gotten older and not treated my body as well as I should have, it seems to have gotten worse. I am praying that as I lose weight, it will help with my breathing. Because you know, they are intertwined somehow. Reason # 5327238340 to lose weight and get healthy.
- I love Instagram and check it way too much throughout the day. I get an odd sense of satisfaction when the little, orange notification bar appears telling me I have a new "Like", comment or follower. So lame, I know.
- Even though we did not have any extra money this week, I still bought Avery the Foofa stuffed animal from Yo Gabba Gabba. Sacrifice for your kids, right?
Time for another breathing treatment, working from home today so that makes it a little easier.
Happy Wednesday!
xoxo